Yesterday I ordered a new bicycle, a Bike Friday Pocket Rocket. It's a folding bike that rides like a good road bike.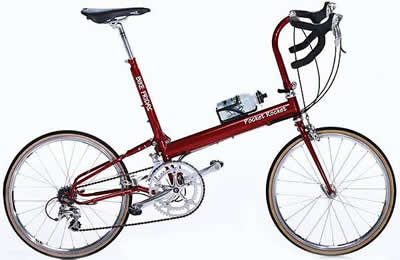 My house in Setagaya, Tokyo is tiny and the three other members of the family already own four bikes between them, so we're really short of space.
A while ago an Alex Moulton bike in a park in Tokyo caught my eye and that started me looking at small-wheeled fast bikes.
Moulton bikes have suspensions and use small wheels (20 inch or smaller). Some of them use a space frame, like on the TSR model pictured above and can be separated into two halves for transport or storage. Unfortunately, some Moultons are obscenely expensive (for the list price of the top of the range Moulton Double Pylon — JPY 1,795,500 — you could almost get a Honda Insight hybrid car). A Moulton TSR-30, the model I would have been most interested in, sells for JPY 390,000 (about US$5,000) over here, which is way over my budget limit.
Therefore I started looking at various other small-wheeled bikes, including Dahon, Birdy (Riese & Müller, Germany) and Bike Friday (Oregon, US).
I then test rode a Bike Friday Pocket Rocket at Amanda Sports (one of their dealers in Japan) here in Tokyo last summer and liked it. Bike Friday bikes are definitely not cheap either, but the bikes are well designed and well made and carry a life-time warranty on the frame. The company is famous for its customer service. They use a lot of standard parts to make sure their bikes are easy to repair and in all the bike forums I visited, I never read a single bad word about them from any of their owners: Their customers seem very loyal.
I probably would have ordered a Bike Friday this spring, but then the M9.0 Tōhoku earthquake and tsunami hit Japan and triggered the Fukushima nuclear disaster, prompting me to take my family abroad until the situation in Japan had stabilized again a bit. I returned and now I finally placed the order.
With the help of one of Bike Friday's bicycle consultants, I selected a 27-speed model using Shimano STI integrated shifters, with drop handles, narrow high pressure tires, fenders and a kick stand, in a colour called "Enno Orange".
The bike will be delivered in early October. Stay tuned for pictures and ride reports with even more pictures!
Cycling since high school
Though born and raised in Germany, I've never been interested in football (soccer) or anything that involves a ball or opposing teams. The only sports I really enjoyed were swimming, walking or running longer distances and cycling. These are sports that you can do not only when you're young, but throughout your life.
When I was in high school I bought my first 10-speed bicycle, a French Motobecane with drop handles. During one summer I did 7,500 km (4700 miles) over a period of 150 days (50 km/day average). I enjoyed going for rides of several hours, especially on weekends. My longest single day distance was 220 km.
Eleven years ago, when I moved to Yokohama, I bought a mountain bike. I gave it away to friend when I moved to my small house in Tokyo last year, because I had no space for it. Since then I've been using either my wife's mamachari (housewife's bike) or a small rusty foldable with squeaky brakes that we originally got as freebie from SoftBank Mobile when we signed up for iPhone contracts (seen folded in the centre of the picture of my home at the top). I am not a bike snob. I'll ride just about anything with two wheels and usually the only kind of bicycle wear I put on is a proper bicycle helmet.
In Tokyo, a bicycle will often get you from A to B almost as quickly as a car (sometimes quicker) and you won't be paying an arm and a leg for parking, plus it's more fun than driving a car on our notoriously congested city roads. That's why I do most of my shopping by bicycle these days.