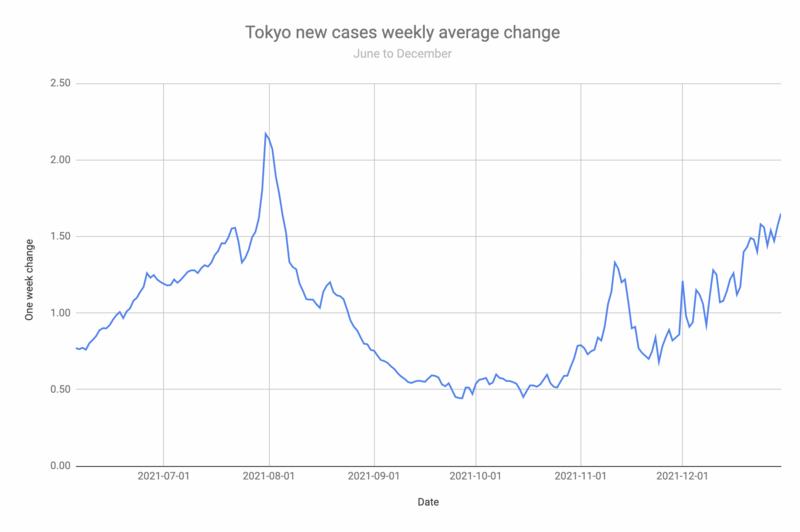 Compared to over 100,000 new cases a day in countries like the UK and France (each with roughly half the population of Japan), 500+ Covid cases in Japan may seem almost trivial. Japan has recently experienced something of a post-5th wave honeymoon after months of falling cases, but that is set to end very soon.
As of today (December 31), the weekly average of new cases in Tokyo has been higher than the weekly average one week earlier for 23 consecutive days. In the entire month of December the 7-day average only decreased week on week on 4 days, all of them towards the beginning of the month.
What's more, the rate of increase is going up. Before Dec 19, the highest week on week increase was 1.26. Since then it has been 1.40 or higher. Today's weekly comparison reached 1.68, the highest since August 4. Only six days in the 5th wave had a higher weekly increase, all between July 30 and August 4, when Delta cases outgrew Alpha cases.
Is this because the more infectious Omicron strain is outgrowing Delta now? Most likely not yet! The number of confirmed Omicron cases from community spread is still small compared to Delta. That means the cause is likely to be social: People are feeling relatively safe because of the much lower case count compared to last December's 3rd wave and also they want to do things that they will most likely not be able to do in a couple of weeks, once Omicron takes over. Sadly, that's exactly how Omicron will take over. We've entered super-exponential growth, even if it's from a low basis.
What's the Japanese response to this? So far, no new restrictions have been imposed yet. Opportunities for free testing, regardless of symptoms, have been expanded. However, the plan for 3rd vaccine doses has been left virtually unchanged. The booster program was originally created when it was found that immunity to Delta dropped after a number of months. Japan then decided on an 8 month interval between 2nd and 3rd doses. However, it takes a much higher level of antibodies to neutralize the heavily mutated Omicron strain, even if you're still far from 8 months. A third shot of Pfizer/BioNTech will raise vaccine efficiency against symptomatic infection from under 30 percent to over 70 percent, close to what it was for Delta with two doses. Japan has not responded to this new reality yet. The official policy on the Cabinet Office website still states that 3rd doses are due "in principle" after 8 months. That means, people who were vaccinated in August and September are not due for booster shots until April or May. There is no question that Omicron will blow up into big number in January and February already.
It may be some comfort that the number of cases in Tokyo on New Year's Eve 2021 was only 6 percent of the cases of a year before. On the other hand, it took South Africa only 14 days to go from a weekly count of ~2,000 cases to ~33,000 cases when Omicron arrived. Do the math!
From December 2 (the first day of the booster campaign) to December 28, the latest date for which data is available, Japan has deployed 531,296 third shots to healthcare workers. That's just 11% of the healthcare workers who received 2 doses and about 0.4% of the entire population. That means before the New Year starts, 8 out of 9 healthcare workers who will soon have to be dealing with an onslaught of Omicron cases have not yet had their immunity level doubled.
In many countries in Europe, between 20 and 50% of the adults with 2 doses have received their third dose already and yet they are experiencing tens of thousands of cases. For example, Portugal, which has only 70% of the population of Tokyo but a higher rate of two vaccine doses in its population and where a quarter of the population have had 3rd shots, counted over 17,000 new cases on December 29. Tokyo counted a mere 76 cases.
While two doses will still offer good protection from hospitalization and death, they will not prevent a rapid increase in cases. On present plans, the third shots will come too late for many healthcare workers and senior citizens.
The other lines of defense should be masks and ventilation. Most people in Japan do not yet use high grade masks such as N95/KN95/FFP2/KF94/JN95 and I am seeing little effort to promote their use over regular surgical or other masks. Likewise, there is little emphasis on preventing airborne spreading, such as installing HEPA filters, upgraded ventilation, etc.