The Kill A Watt EZ Electricity Usage Monitor P4460
by P3 International is a popular gadget in North America for measuring power usage by electronics and electrical appliances. You simply plug it into the wall socket and plug the appliance into the device and it will give you instant read-outs of power usage in Watt, electricity consumption over time in kWh as well as electricity costs (if you enter the price the utility charges per kWh). Knowing exactly how much electricity each device consumes encourages smart choices about when and how you use them.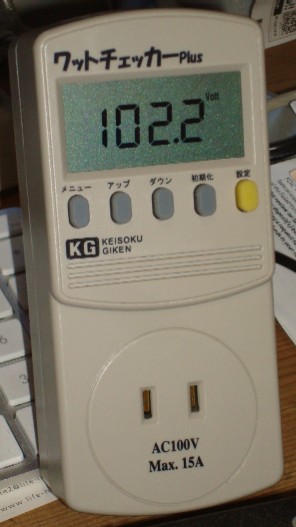 While Kill A Watt models have been available for 115V and 230V markets in North America and Europe, I could not find any mention of a 100V model for Japan. As it turned it out, the device is made by Prodigit in Taiwan, who do make a model for Japan (2022-04) which is sold here under the name ワットチェッカーPlus ("Watt Checker Plus") by Keisoku Giken, Co. Ltd. I bought mine through Amazon.co.jp for JPY 5,670 (about US$63, $28 more than in the US).
Here are some preliminary results:
Acer Aspire M5201 (desktop: AMD Athlon X2 5000+, 2.60 GHz, integrated Radeon HD 3200, 4 GB DDR2 RAM, 320 GB + 1000 GB 3.5″ SATA HD):
– 68 W at idle
– 120 W at 100% CPU (both cores loaded)
eMachines T6212 (desktop: AMD Athlon 64 3200+, 2.00 GHz, discrete Asus EAH3450 256 MB, 3 GB DDR RAM, 160 GB 3.5″ HD):
– 69 W at idle + "performance on demand"
– 75 W at idle + "maximum performance"
– 90 W at 100% CPU (only core loaded)
Dell Dimension 3100C (desktop: Intel Celeron D 331, 2.66 GHz, 1 GB RAM, 160 GB 3.5″ SATA HD):
– 78 W at idle
VIA MM3500 (desktop: VIA C7, 1.5 GHz, 2 GB DDR2 RAM, 2 x 1 TB SATA WD10EADS):
– 41 W at (almost) idle
– 69 W loaded
Gateway M-6750 (notebook: Core 2 Duo T5450, 1.67 GHz, 3 GB DDR2 RAM, 250 GB 2.5″ SATA HD):
– 24 W at idle
– 48 W at 100% CPU (both cores loaded)
Mac mini (desktop: Core 2 Duo T5600, 1.83 GHz, 2 GB DDR2 RAM, 80 GB 2.5″ SATA HD):
– 21 W at idle
Lenovo S10e (Notebook: Atom N270, 2 GB DDR2 RAM, 160 GB 2.5″ SATA):
– 20 W at 90% CPU load
Dell Latitude CPx J650GT (notebook: Intel Pentium III Mobile, 650 MHz, 512 MB PC100 RAM, 60 GB 2.5″ IDE HD):
– 13 W at idle, screen off
Dell 2408WFP (monitor: 24″, 1920 x 1200):
– 48 W at brightness 0%
– 60 W at brightness 12%
– 120 W at brightness 100%
Dell 1905FP (monitor: 19″, 1280 x 1024):
– 27 W at brightness 0%
– 32 W at brightness 50%
– 36 W at brightness 100%
Epson PM-A950 (inkjet printer / scanner / copier):
– 3 W at standby (display off) or soft "off"
– 15 W at idle (display on)
– 19 W while scanning
– 25 W while printing
Mitsubishi 25T-SY3 (colour TV: 25″, CRT, 110 W):
– 80 to 100 W (depending on brightness of scene)
The inefficiency of the Celeron D was to be expected. It's based on the infamous Pentium4 architecture that was later abandoned by Intel in favour of the more efficient Pentium III / Pentium M derived Core architecture.
Also expected was the frugality of the Atom N270 netbook, but I was positively surprised by how little power the Pentium III Mobile machine (Dell Latitude 650) consumed. Neither of these machines is a scorcher, but given its age the 8 year old Dell is doing surprisingly well as a temporary web browser and e-mail machine for my wife after her Dimension 3100C's hard disk failed last week.
My biggest surprise was that the Mac mini uses only half the electricity of the VIA server I built (21 W versus 42 W). Admittedly, it only has one notebook drive (80 GB 2.5″) instead of two high capacity 3.5″ drives, but that should only account for about one quarter of the advantage of the faster Intel Mac over the slower VIA. The 80 GB single platter Hitachi TravelStar 2K250 in the Mac only draws a tiny 0.55 W at idle, but the Western Digital WD10EADS in the VIA server are doing quite well for a drive with 1 TB and 3 disks at only 2.8 W each at idle.
Note also that my Mac mini is last year's model (2008). A newer model that came out in early 2009 (2.0 GHz Core2 Duo, 2GB DDR3 SDRAM, 320GB HD, GeForce 9400M video) is rated even lower, at less than 14 W at idle. Apple calls the Mac mini the "most energy-efficient desktop computer" and not without cause.
I also expected my old CRT TV to use considerably more power than my flat screen monitors. That was true for the 19″ monitors, but not necessarily for the 24″, depending on screen brightness settings.
Another surprise was that it makes no difference whatsoever whether I switch off my inkjet printer when I'm not expecting to print anything soon. After powering it on or after any printing, copying or scanning, the small LCD display will stay lit for a few minutes, with the printer drawing about 15 W (idle mode). After that interval, the display goes dark and the printer goes into a sleep mode from which it will awake on any button press or print job. In this state it is drawing the same 3 W as after switching it off using the On/Off button but leaving it plugged in. All the Off-switch seems to do is to stop it from responding to print output or to buttons other than the On-button. To get rid of the last 3 W you would need to unplug it or switch it off at a switchable power strip. Note that inkjet printers should only be fully disconnected from the mains this way while already switched off using the On/Off button.
I wish that power draw figures at idle and load were readily available for every computer on the market, so that consumers could make informed decisions.